Coming Back with Wes Moore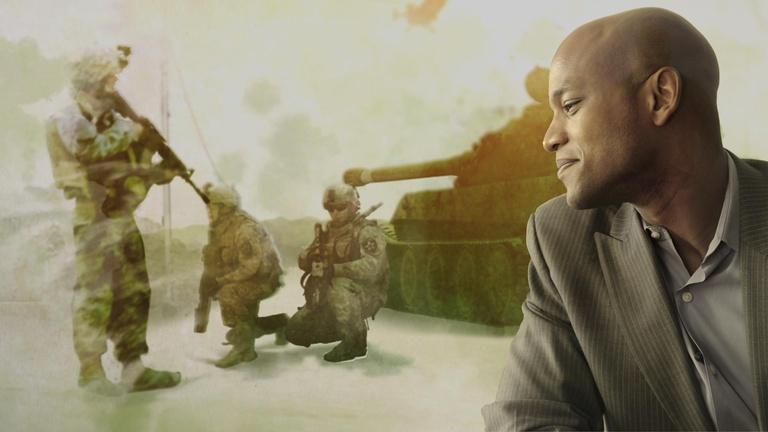 Create OVEE Account
By signing in, you are authorizing ITVS to share information collected from you with any persons or entities participating in or hosting the screening, and to send you periodic communications about related events, services, and support. Any other uses of your information by ITVS are governed by ITVS's Privacy Policy and Terms of Service.
Thanks!
We'll send a reminder email one hour before the online screening event starts.
Be sure to create an OVEE account before the screening day.
Add to Calendar
false
MM/DD/YYYY
Sorry!
We can't take RSVPs right now.
Please try again later.
Enter Screening
Welcome! Please sign in with one of the following options...
OVEE Account
Welcome
Thanks for joining us for this OVEE screening of the first episode of the new PBS series COMING BACK WITH WES MOORE. We're joined by panelists Stacy Pearsall of the Veterans' Portrait Project (featured in the film), and Dana Hendrickson, Director of Outreach & Advocacy for the Maryland Department of Veterans Affairs. We invite you to chat live with us throughout the screening with your questions and reactions to this show.
Episode 2 of COMING BACK airs Tuesday, May 20, 2014 at 8 PM. Episode 3 airs Tuesday, May 27 at 8 PM
OVEE PRE-SCREENING PREP (allow time in advance for these steps):
--log in through Facebook OR open an OVEE account
--run the diagnostics tool at ovee.itvs.org/diagnostics to be sure your computer is OVEE-ready and make any necessary updates to your web browser or Flash player
--enter the screening just before the designated time
Email ovee@mpt.org if you should have any problems.
Video Description
Episode 1 | Coming Back
Learn why some veterans easily reintegrate into society after deployment and why some struggle. Wes' journey begins with Brian Collins, one of his oldest friends and a fellow officer. Last year, Brian abruptly took his own life. The questions surrounding this tragedy initiate Wes' desire to learn more about why some can get on with their lives, while some cannot.
54min 41sec
Moderator
Faith Wachter

Faith has directed the community engagement efforts of Maryland Public Television (MPT) since 2000. She also leads MPT's social media marketing. Faith has been recognized for her work in the community with a number of awards, including a regional Emmy nomination and a Silver Communicator Award of Distinction.
Panelists
Stacy Pearsall

Stacy L. Pearsall got her start as an Air Force photographer at the age of 17. During her time in the service, she traveled to over 41 countries, and attended S.I. Newhouse School of Public Communications at Syracuse University. Now combat disabled and retired from military service, Pearsall continues to work worldwide as a freelance photographer, and is an author, educator, military consultant, public speaker and founder of the Veterans Portrait Project. Pearsall was one of only two women to win NPPA's Military Photographer of the Year competition, and the only woman to have earned it twice. She's been honored as the Air Force Veteran of the Year by the Air Force Band and PBS, presented the Trojan Labor American Hero Award, honored with the Daughters of the American Revolution Margaret Cochran Corbin Award, lauded by the White House as a Champion of Change, and holds an honorary doctoral degree from The Citadel. Follow her on Twitter @StacyPearsall and on Facebook and Instagram: SLPearsall

Dana Hendrickson

Dana Hendrickson is the Director of Outreach and Advocacy with the Maryland Department of Veterans Affairs. She has also served with Maryland's Commitment to Veterans. Dana holds a Master's Degree in Psychology from Towson University and is the proud wife of a Combat Veteran. She and her husband have two sons.
Before you get started in OVEE:
1. Ensure you are using the most current version of your favorite browser:
2. Run a test to ensure OVEE works properly on your computer
The views and opinions expressed in this online screening are those of the presenters and participants, and do not necessarily reflect the views or policies of ITVS, public broadcasting, or any entities hosting the screening.