John Glenn: A Life of Service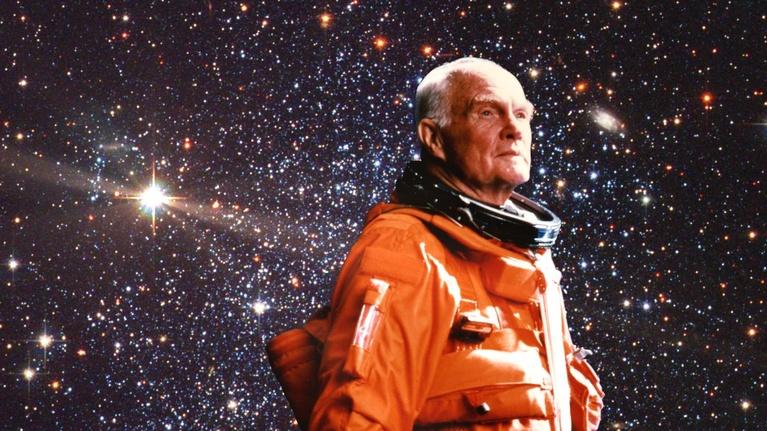 Sorry!
We can't take RSVPs right now.
Please try again later.
By signing in, you are authorizing ITVS to share your email address with your local PBS station to send you periodic communications about station events, services, and support. Any other uses of your information by ITVS are governed by ITVS's Privacy Policy and Terms of Service.
Welcome
Thanks for participating in the chat to celebrate the premiere of John Glenn: A Life of Service'
The documentary will be re-aired on Sunday, July 28 at 8 p.m. on WOSU TV. The DVD version can be purchased at wosu.org/shop.
Join WOSU Public Media's Ben Bays, producer of the John Glenn: A Life of Service documentary as well as Jeffrey W. Thomas, archivist for the John Glenn Archives at The Ohio State University for a look inside the documentary.
We'll share key scenes from the documentary as well as some exclusive deleted scenes.
Video Descriptions
John Glenn: A Life of Service Preview
John Glenn: A Life of Service chronicles an American hero, born in Ohio, who dedicated himself to a life of duty and public service. From war pilot, to the first American to orbit the Earth to his days in the Senate, it shows the pivotal moments of a man who put country before self.
John Glenn: Growing Up During The Great Depression
Growing up during the Great Depression in New Concord, Ohio, John Glenn witnessed first-hand how President Franklin D. Roosevelt's government-sponsored initiatives could help the country. Glenn's father served as a foreman on a sewer project funded by the Work Projects Administration (WPA).
John Glenn: Korean War
Throughout his tour of duty in the Korean War, John Glenn flew over the front lines and the tail of his fighter jet was hit several times by enemy gunfire.
John Glenn: Preparing For Friendship 7
Before John Glenn's historic orbiting of the Earth aboard Friendship 7, the mission was delayed 11 times due to mechanical issues and system malfunctions. With his life at risk, the flight was delayed six weeks. Glenn finally went into space on February 20, 1962.
John Glenn: Gold Mothers Speech
John Glenn served 23 years as a U.S. Senator from Ohio. However after two failed attempts, John Glenn was criticized by Democratic challenger Howard Metzenbaum in 1974 that he had never worked for a living. In a debate at the Cleveland City Club Glenn gave what is now known as the "Gold Star Mothers" speech where he argued service by him and others who held jobs of duty made sacrifices to their co
John Glenn: 1984 Presidential Bid
The possible matchup of John Glenn against President Ronald Reagan in the 1984 presidential election caused Reagan's Chief of Staff James Baker to flinch during a conversation with PBS NewsHour Political Analyst Mark Shields.
John Glenn: Down To Earth In The U.S. Senate
Former colleagues in the United States Senate Patrick Leahy and Carl Levin discuss John Glenn's humility and sense of humor he displayed while on Capitol Hill.
John Glenn: Humble National Hero
Following his first historic space mission, John Glenn managed to stay humble despite all the praise that was directed toward him. Credit for the humility went to his wife, Annie. NBC News space correspondent Jay Barbree recounts one occasion where Glenn started to buy the hype. Barbree shares how in her quiet manner, Annie spoke up to help keep her husband's feet on the ground.
John Glenn: Return To Space
On Oct. 29, 1998, the Discovery blasted off from the Kennedy Space Center with John Glenn the oldest person to go into space. The nation's attention was captivated by the mission which included the 77-year-old space pioneer.
Duration: 13min 51sec
Moderator
Nick Houser

Digital Media Director for WOSU Public Media
Panelists
Ben Bays

Four-time, Emmy Award winner Ben Bays has been making movies and television for the past 20 years. He studied film at the Los Angeles Film Studies Center where he interned at James Cameron's Lightstorm Entertainment. Since then, Ben has worked for NBC, CBS, UPN, FOX, Warner Bros, Disney, and the WB. He has directed and produced several independent films and television series, and is currently an Executive Producer for Big Ten Programming at WOSU Public Media, producing shows such as O-H-I-O and the Emmy-nominated documentary, Jesse Owens: Enduring Spirit.

Jeffrey Thomas

Jeffrey W. Thomas has been the archivist for the John Glenn Archives at The Ohio State University since April 1999. Previously, he worked at the Ohio Historical Society Archives-Library in both reference (1988-1989) and manuscript acquisitions (1990-1999). While at the historical society he was responsible for the acquisition and processing of the papers of former congressmen Clarence A Bud Brown, Jr. and Chalmers P. Wylie, and an addendum to the papers of former senator Frank Lausche. He was the author of frequent articles on new manuscript acquisitions for APreview, the society's newsletter and served on the society's Committee of Curators. He received an M.A. in archival administration in 1987 from Wright State University and a B.A. in history from the College of Wooster in 1985. An army veteran, he currently holds membership in the Midwest Archives Conference and the Society of American Archivists. Within the Society of American Archivists he is an active member of the Congressional Papers Roundtable.
Before you get started in OVEE:
1. Ensure you are using the most current version of your favorite browser:
2. Ensure you are using the current version of the Flash player, unless you are using an iPad
3. Run a test to ensure OVEE works properly on your computer
This online screening event is presented by your local public television station or other public media organization.
The perspectives expressed do not represent the views of the presenter or public broadcasting.