DIA Virtual Field Trip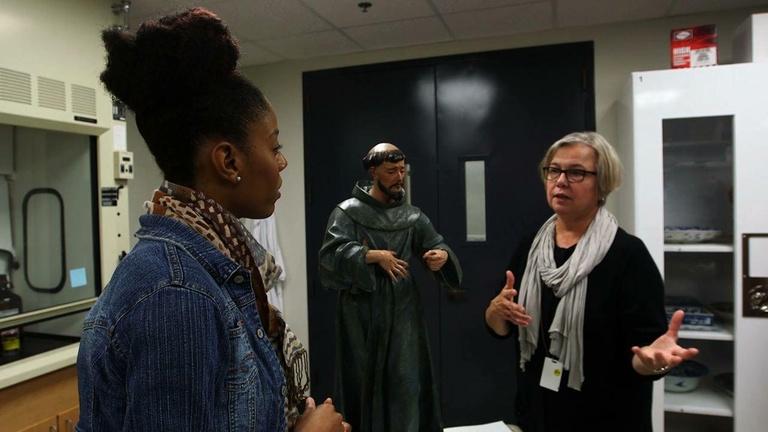 Create OVEE Account
By signing in, you are authorizing ITVS to share information collected from you with any persons or entities participating in or hosting the screening. Such persons or entities may send you periodic communications about related events, services, and support. ITVS's Privacy Policy and Terms of Service govern all uses of your information.
Thanks!
We'll send a reminder email one hour before the online screening event starts.
Be sure to create an OVEE account before the screening day.
Add to Calendar
false
MM/DD/YYYY
Sorry!
We can't take RSVPs right now.
Please try again later.
Enter Screening
Welcome! Please sign in with one of the following options...
OVEE Account
Welcome
Learn the science of art conservation. Go behind-the-scenes at the DIA with Detroit Public TV Virtual Field Trip where NO ONE has ever gone before!
Join us May 2, 2017 at 10am ET for a guided tour of the field trip. Visit dptv.org/diafieldtrip for more information.
Video Descriptions
Learning from a Sculpture of St. Francis
Behind the scenes at the DIA: What is an X-ray fluorescence spectrometer and how do scientists at the Detroit Institute of Arts use it to learn about art from the past? We meet with Cathy, a research scientist at the D.I.A., to study a sculpture of St. Francis that's over 400 years old. Plus, what does it take to become a part of the D.I.A.'s research team? Part 1 of 4.
How Do Museums Study Art?
Museums don't just display off art - they also study art. Aaron, Image Specialist for the Detroit Institute of Arts, takes us behind-the-scenes to show how experts study and research the collections that we see on exhibit at the D.I.A. Part 2 of 4.
Using "The Last Judgment" to Explore Research Tools
Kathy, a research scientist at the Detroit Institute of Arts, explains how scientists use special equipment to learn more about the elements and minerals used to create paintings from hundreds of years ago. Part 3 of 4.
What is Infrared Reflectography?
We meet Aaron, an imaging specialist in the D.I.A.'s conservation department, who explains Infrared Reflectography and demonstrates how the technique can help us see the "underdrawings" of an artist's artwork. Part 4 of 4.
00:40:00 minutes
Moderator
Panelists
Tara Hardy

Education Leader, Detroit Public TV

Aaron Steele

Conservation Department, Imaging Specialist/Photographer, Detroit Institute of Arts

Phil Gilchrist

Executive Director, Anton Art Center

Tiffany Stano

K-6, New Paradigm for Education at Detroit Edison Public School Academy
Before you get started in OVEE:
1. Ensure you are using the most current version of your favorite popular browser:
2. Run a test to ensure OVEE works properly on your computer
The views and opinions expressed in this online screening are those of the presenters and participants, and do not necessarily reflect the views or policies of ITVS, public broadcasting, or any entities hosting the screening.