Women and Girls Lead present: Invoking Justice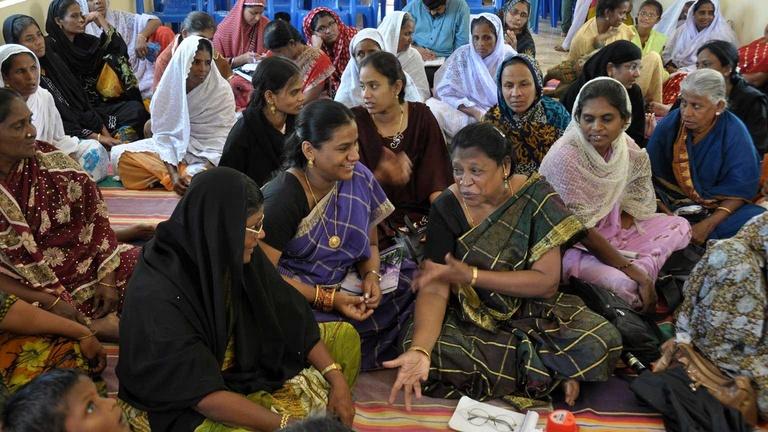 Create OVEE Account
By signing in, you are authorizing ITVS to share information collected from you with any persons or entities participating in or hosting the screening, and to send you periodic communications about related events, services, and support. Any other uses of your information by ITVS are governed by ITVS's Privacy Policy and Terms of Service.
Thanks!
We'll send a reminder email one hour before the online screening event starts.
Be sure to create an OVEE account before the screening day.
Add to Calendar
false
MM/DD/YYYY
Sorry!
We can't take RSVPs right now.
Please try again later.
Enter Screening
Welcome! Please sign in with one of the following options...
OVEE Account
Welcome
Welcome to this Women and Girls Lead production of "Invoking Justice"
Fed up with male-dominated Jamaats (community councils), where they have neither voice nor place, Sharifa and other poor rural and small-town Muslim women in South India set up their own Jamaat in 2003. This was an act of extraordinary challenge and courage, since traditionally Jamaats can only be founded and run by men.
In this unique Jamaat, dowry harassment, domestic violence, divorce, and maintenance and property disputes shall no longer be judged by men. Opposition from male clerics and the community is fierce, but the Women's Jamaat has not only prevailed but grown in strength and legitimacy: to date, they have arbitrated over 10,000 disputes using homespun logic and an innate sense of justice to reclaim the Koran.
Invoking Justice tells the story of this unique strategy from the perspective of Sharifa, a long-time feminist who leads the core group of 20 women that collectively acts on the petitions. Challenging the stereotype of oppressed subjugated Muslim women, they take us on an exhilarating journey as they follow two cases that come to the Jamaat.
Join our panel of inspiring female leaders, whose careers and expertise will enhance our appreciation of this film in context with a global movement producing more female leaders.
Sponsored by Women and Girls Lead, ITVS, MUSLIMA, and the International Museum of Women.
Video Description
Invoking Justice
Muslim women from a small town in South India deliver justice in their own courts, posing a radical challenge to their traditional Muslim community and clergy.
53min 5sec
Moderators
Jonathan Remple

Digital Engagement Producer, ITVS Before joining ITVS, Jonathan was a Fulbright Fellow in Rwanda where he lectured at ISAE-Bosogo, researched traditional Kinyarwanda poetry & myth, and conducted film interviews with rural NGOs. He moved to Cambodia, and worked as a consultant on programs related to the International Criminal Court. He is currently a poet mentor with Youth Speaks and a Fulbright Alumni Ambassador.

Locsi Ferra
Panelists
Masum Momaya, PhD

Museum Curator, Smithsonian Institution Dr. Masum Momaya has 20 years of experience working for women's rights, human rights and social justice. She is currently Museum Curator at the Smithsonian, has been Curator at the International Museum of Women in San Francisco and was Researcher and Writer for the Association for Women's Rights in Development. Masum holds an honors BA in Public Policy and Feminist Studies from Stanford University and an MA in Education and PhD in Human Development from Harvard University.

Annie Fukushima, PhD

Dr. Annie Isabel Fukushima is an Andrew W. Mellon Postdoctoral Associate in Women's and Gender Studies at Rutgers University (2012 - 2014). She is also a lecturer in Peace and Conflict Studies at the University of California Berkeley. Dr. Fukushima received her Ph.D. in Ethnic Studies with a Designated Emphasis in Women, Gender & Sexuality Studies at UC Berkeley; the title of her dissertation is "Asian and Latina Migrants and the Invisible/Visible Paradigm of Human Trafficking." Currently she is reworking dissertation into a book manuscript. She currently is contracted through Office for Victims of Crime programs to evaluate the Anti-Trafficking Collaborative of the Bay Area, California and she recently served as a human trafficking expert witness in the Superior Court of California in San Francisco (2012). She also served as a member of the Board of Directors for the National Coalition Against Domestic Violence (2010 - 2012).

Samina Ali

Curator at Muslim Women's Arts & Voices Samina Ali was born and half raised in India. She founded Daughters of Hajar, a Muslim American feminist organization whose first campaign was to end gender segregation in the U.S. Samina marched with other women into a mosque in Morgantown, W. Virginia to protest that women were being asked to enter through back doors and pray separately. That led to CAIR and ISNA changing policies and requiring all mosques in the U.S. to permit women to enter mosques through any door. Ms. Ali was then invited to be part of ASMA Society, whose organization WISE focuses on women's issues around the world.

Samina
Before you get started in OVEE:
1. Ensure you are using the most current version of your favorite browser:
2. Run a test to ensure OVEE works properly on your computer
The views and opinions expressed in this online screening are those of the presenters and participants, and do not necessarily reflect the views or policies of ITVS, public broadcasting, or any entities hosting the screening.