SEASON PREMIER: Don't Stop Believin': Everyman's Journey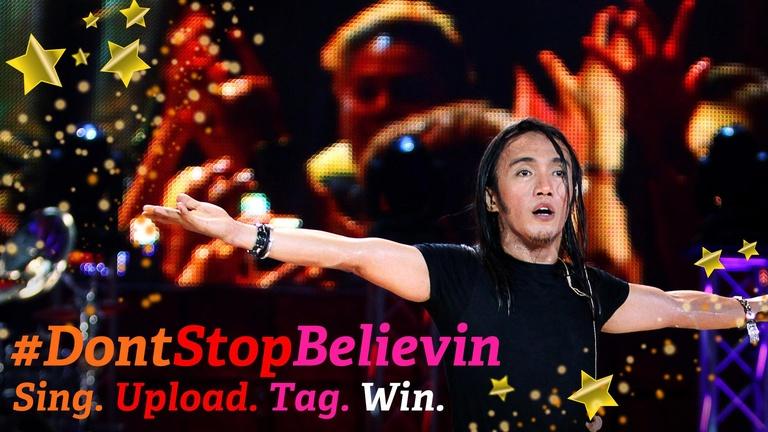 Create OVEE Account
By signing in, you are authorizing ITVS to share information collected from you with any persons or entities participating in or hosting the screening. Such persons or entities may send you periodic communications about related events, services, and support. ITVS's Privacy Policy and Terms of Service govern all uses of your information.
Thanks!
We'll send a reminder email one hour before the online screening event starts.
Be sure to create an OVEE account before the screening day.
Add to Calendar
false
MM/DD/YYYY
Sorry!
We can't take RSVPs right now.
Please try again later.
Enter Screening
Welcome! Please sign in with one of the following options...
OVEE Account
Welcome
Welcome to Independent Lens' online season premier screening!
We're screening the FULL Journey Rockumentary - "Don't Stop Believin': Everyman's Journey" and having a simultaneous LIVE CHAT with:
• Chris Willman, Writer for Entertainment Weekly, the LA Times, and Rolling Stone
• John Woo, Executive Director of Asian CineVision
• Jasen Emmons, Curatorial Director of the EMP Museum
Sign-in to chat and watch the award-winning rockumentary about one of America's most beloved bands and see the real-life fairy tale of lead singer Arnel Pineda, who was discovered on YouTube in the Philippines and is now Journey's frontman.
Join in our panel discussion during the film and chat with our VIP GUEST afterwards.
Presented by:
ITVS
KQED
Asian CineVision
Center for Asian American Media
EMP Museum
Seattle International Film Festival
Oklahoma Rock Hall of Fame
...
Video Descriptions
Upload Your Journey Cover Song!
To celebrate the September 30th premiere of Don't Stop Believin': Everyman's Journey, we want to give YOU your 15 minutes of fame. Using either Vine or Instagram, pay homage to the legendary rockers by recording a cover of their classic, "Don't Stop Believin'." Tag it using #DontStopBelievin and you could receive a signed poster from the band!
Don't Stop Believin': Everyman's Journey
In a real-life fairy tale, a Filipino singer is plucked from YouTube to front the iconic American band Journey, and must deal with the pressures of replacing a legend while leading the band on their longest world tour in ages.
Coming to Independent Lens: The Waiting Room
The Waiting Room is a cinema verité portrait of one California city's public safety-net hospital as it struggles to handle patient overload in a swooning economy and a constantly shifting landscape of health care policy. The film will make its television premiere next season on Independent Lens.
87min 58sec
Moderator
Jonathan Remple

Jonathan Remple is the Digital Engagement Producer at ITVS where he hosts and produces national online screenings on OVEE for Independent Lens and PBS films. He was a Fulbright Fellow in Rwanda and mentors with Youth Speaks and SF JAZZ. You can follow him @remplej
Participants
Chris Willman

Panelist

Chris Willman writes for Entertainment Weekly, the LA Times, Rolling Stone, TV Guide, New York magazine, Yahoo! Music, and other publications. He is the author of the book Rednecks and Bluenecks: The Politics of Country Music. Follow @ChrisWillman

John Woo

Panelist

John Woo is the Executive Director of Asia CineVision. ACV is a media arts nonprofit devoted to the development, exhibition, promotion, and preservation of Asian and Asian American film and video. Since 1978, ACV has presented the Asian American International Film Festival (AAIFF), the first and longest running festival in the U.S. to showcase for the best in independent Asian and Asian American cinema.

Jasen Emmons

Panelist

Jasen Emmons is the Curatorial Director at the EMP Museum in Seattle and the author of the novel "Cowboy Angst." Founded by Microsoft-producer Paul Allen, the EMP Museum is a leading-edge, nonprofit museum, dedicated to the ideas and risk-taking that fuel contemporary popular culture. Read his feature in SLATE magazine: slate.me/1bIYGcG

Chris

Panelist

Carl

Panelist

Mike Kwan

Panelist

John Woo

Panelist
Before you get started in OVEE:
1. Ensure you are using the most current version of your favorite popular browser:
2. Run a test to ensure OVEE works properly on your computer
The views and opinions expressed in this online screening are those of the presenters and participants, and do not necessarily reflect the views or policies of ITVS, public broadcasting, or any entities hosting the screening.