Online Film Symposium on Gender and Poverty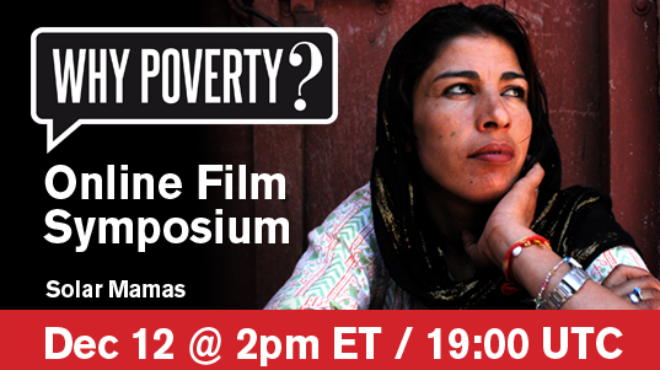 Sorry!
We can't take RSVPs right now.
Please try again later.
By signing in, you are authorizing ITVS to share your email address with your local PBS station to send you periodic communications about station events, services, and support. Any other uses of your information by ITVS are governed by ITVS's Privacy Policy and Terms of Service.
Welcome
Why are 70 percent of the world's poor women and girls? Experts, filmmakers, and a global audience come together to discuss this question and others in an online film symposium.
The event is presented by Why Poverty? in partnership with Women and Girls Lead and the International Museum of Women.
Video Description
Why Poverty? Film Clips
The online symposium will feature clips from Welcome to the World, Solar Mamas, and other films from Why Poverty?, a global media event to encourage people to talk about poverty. Welcome to the World follows the stories of mothers and babies in the U.S., Cambodia, and Sierra Leone to understand how poverty affects childbirth, childhood - and everything beyond. Solar Mamas travels from Jordan to India with Rafea, who leaves her village for the first time to study solar engineering at the Barefoot College. Other featured trailers include: Poor Us; Park Avenue: Money, Power & the American Dream; Give Us the Money; and Education, Education.
Duration: 41min 36sec
Moderators
Renee Gasch

Renee is an engagement coordinator for the Women and Girls Lead and Community Classroom programs at the Independent Television Service (ITVS).

Martin Kirk

Steve G
Panelists
Frances Ganges

A midwife with more than 25 years' experience, Frances Ganges is Director, Technical Oversight and Support at the White Ribbon Alliance for Safe Motherhood (WRA). There she provides technical leadership to the WRA Global Secretariat and country alliances. Frances has been involved with numerous global programs, particularly in sub-Saharan Africa. Her experience spans 20 countries in reproductive, community and maternal-newborn health projects with US and international organizations, including several midwifery associations.

Alejandra Scampini

Alejandra Scampini is the Manager of Influencing Development Actors and Practices for Women's Rights at AWID. She is a Uruguayan feminist activist and before joining AWID worked for ActionAid as the Women's Rights coordinator for Latin America and the Caribbean. Alejandra also worked with REPEM for more than 10 years where she gained experience in women's rights, education and development advocacy.

Mette Heide

Mette Heide is an award-winning producer and owner of +plus pictures ApS. She has worked as an executive producer for the past 16 years. Among the films she's produced are Last White Man Standing (2010), The Invention of Dr. Nakamats (2009), Honestly, Mum and Dad (2009), and Liberace of Baghdad, winner of the Special Prize at the 2005 Sundance Film Festival.

Brian Hill

Born in Rochdale, UK, Brian Hill is an award-winning filmmaker and managing director of Century Films, one of the UK's most highly regarded independent production companies. Hill has made more than 60 films for the BBC, Channel 4, and ITV, many of which have won awards from the British Academy of Film and Television and the Royal Television Society, including his landmark films with poet Simon Armitage which saw the development of a new form – the documentary musical. One of them, Songbirds, set in a women's prison, was selected for the Sundance Film Festival.

Frances
Before you get started in OVEE:
1. Ensure you are using the most current version of your favorite browser:
2. Ensure you are using the current version of the Flash player, unless you are using an iPad
3. Run a test to ensure OVEE works properly on your computer
This online screening event is presented by your local public television station or other public media organization.
The perspectives expressed do not represent the views of the presenter or public broadcasting.